Simmered Eggplant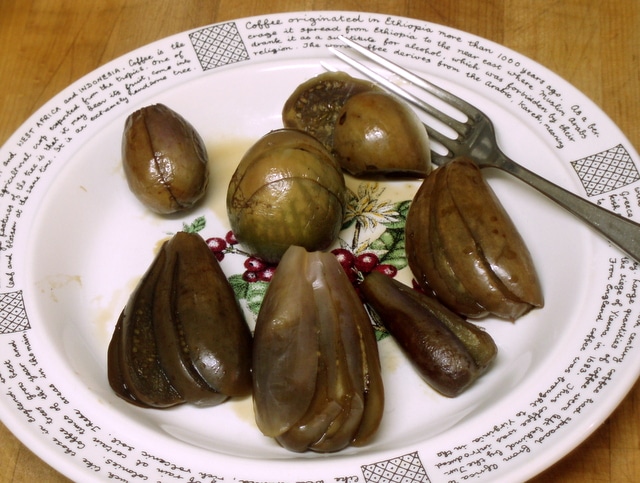 You may have gathered that this was a good year for eggplant, in our CSA…  Our farmer specializes in a wide variety of types – the big purple ones most people are used to, sure, but also the long thin ones, round ones the size of oranges, and lovely lavender streaked baby ones. And this seems to have been a particularly productive year for the latter – we've been getting them every week.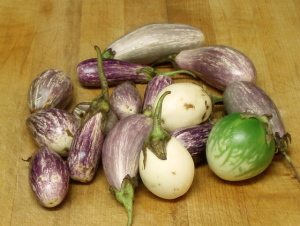 Now, for years I didn't like eggplant – but all I'd had were the big ones. Then, at Greenmarket, I met the slender Japanese ones, and found the texture (which had put me off) was totally different – more silky than mealy/mushy. And I learned ways to cook them that didn't just simmer them to a pulp, or let them absorb all the oil I was trying to saute them in (but not always actually brown in it…)
I was sure I'd learned this technique of slicing for simmered eggplant from a Japanese cookbook I have, but when I looked a few years ago to check something, that wasn't what it suggested at all! I don't know know if I actually read it somewhere else (but I haven't been able to find it)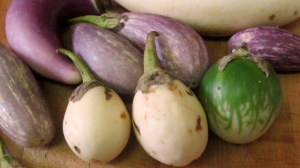 or misunderstood something, or just made it up all together – but it works well, so I don't care (well, other than to attempt to give credit where it is due…) I've been doing this for years, usually with the long thin eggplants, and liking it, and it worked very well indeed with the baby ones I have now. (I don't think it would work as well with the big ones more typically in supermarkets. On the other hand, the recipes they work well in – parmigiana, baba ganoush, and so on – don't work as well with the smaller ones, I think. The higher ratio of skin to pulp in the small ones hurts the texture in those dishes.)
I suddenly realized that I had not shared this last August, when the season was beginning, but if anyone else is still getting them, and running out of ideas…
The basic idea is to slice them from one end, keeping the other intact, and then letting them open like a fan on the plate. It is pretty, it lets them cook thoroughly, but it seems to help avoid mushiness… I simmer them in some flavorful liquid, and the cutting shape also lets the eggplant absorb all that flavor without being overwhelmed by it.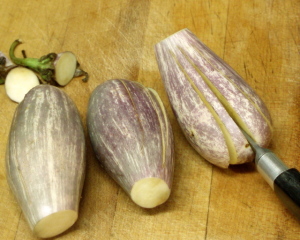 After washing them, I took each one and cut off the cap at the end. Then I did one of two things, depending on the shape. With the mini, um… eggplant shaped ones (Well – they are just like the big purple ones, just tiny!) I used the stem end as the fan handle, so to speak. I left it intact, and sliced down the center, then again on each side (if it was thick enough.)  I used the stem as the intact end as it is often firmer than the blossom end, and less likely to fall apart.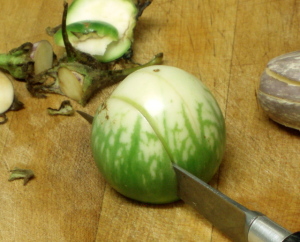 The round ones were cut in essentially the same shape, but I found it easier to place the cut end down and slice down the center to near the end, still leaving the base intact. This was simpler than trying to hold a little ball still while I cut!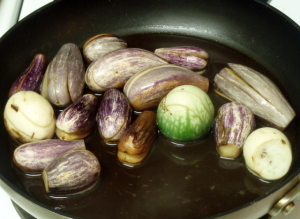 Then I put them in a pan with a little broth. This time I was serving them with a beef dish, so I used a little beef broth – but other times I've used chicken, or vegetable, or just water with soy sauce or other seasoning. (Simmering some dried shiitake mushrooms and soy sauce for about 5 minutes first, to make a mushroom broth, and then using that is a very nice variation!) I brought the broth to a simmer and then stirred it gently every minute or two, just to turn the eggplants over. I didn't cover the vegetables with broth, so I wanted to make sure all sides were in the broth at some point. After a few stirs, I covered the pan, but continued to check and stir every 2-3 minutes. All told, it simmered about 10 minutes, with the frequent stirring.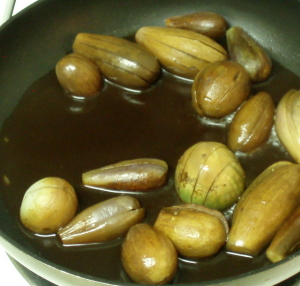 In this case, I drained off the broth and used it in the other dish I was cooking. You can do that, or you can remove the eggplant and cook the broth down a little, then serve it over the vegetables and any rice or potatoes you serve with them.
Unfortunately the simmered eggplant loses its lovely color – so many vegetables do! – so it is not as pretty when cooked as one might wish. It certainly tasted good, though. The thin slices allow the eggplant to absorb flavor from the broth, without being overwhelmed by it. The texture was soft and silky, not mushy at all.
This was the dish that brought me around to liking eggplant… I hope you enjoy it!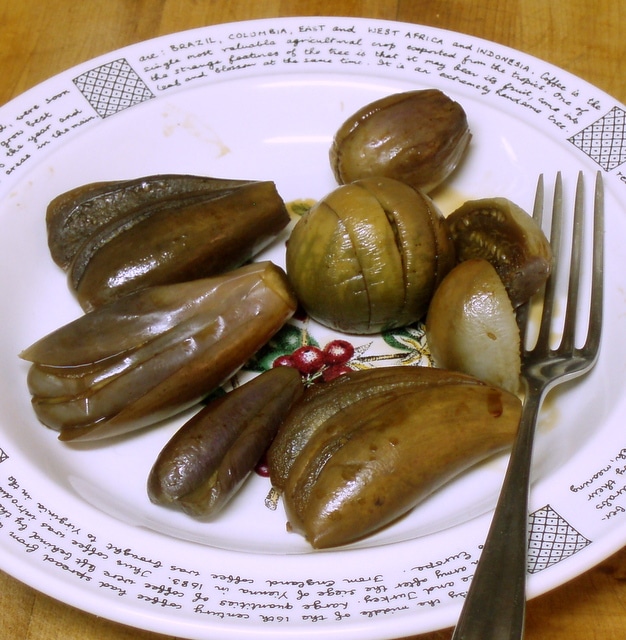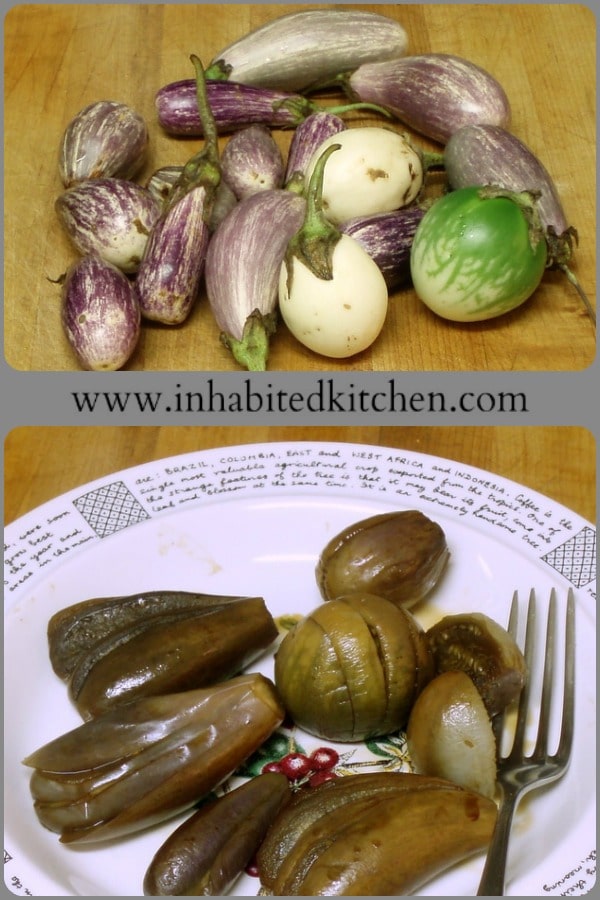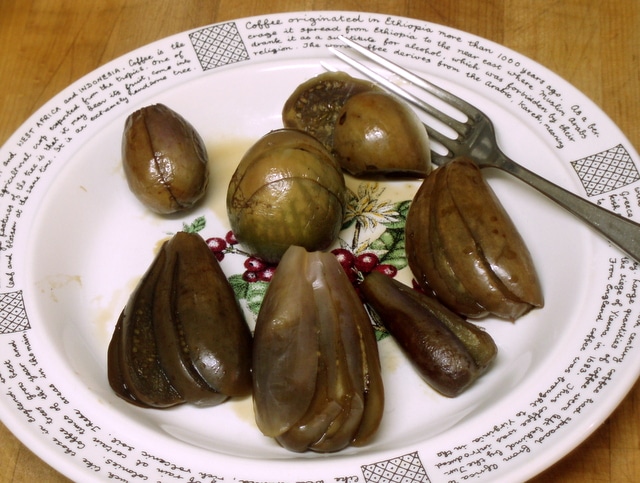 Simmered Mini Eggplant
Small simmered eggplant, cut in a fan shape, cooks to a delicate softness without becoming mushy.
Ingredients
Assorted small eggplants - either mini

or thin Japanese.

1/2

c

broth
Instructions
Take each washed eggplant and cut off the cap. Carefully slice down the middle, leaving the stem end intact. Slice again on either side of the original slice, if it is big enough, as many times as needed for even slices, so that the eggplant can be opened into a fan shape.

Place in pan with broth. Bring to a gentle simmer, and stir occasionally, to turn the eggplant so that all sides are in the broth at some point.

Simmer 10 minutes until cooked to taste.

Remove eggplant, and, if desired. let the broth boil a moment to thicken it for use as a sauce.
Save
---
---