Salmon Patties with Quinoa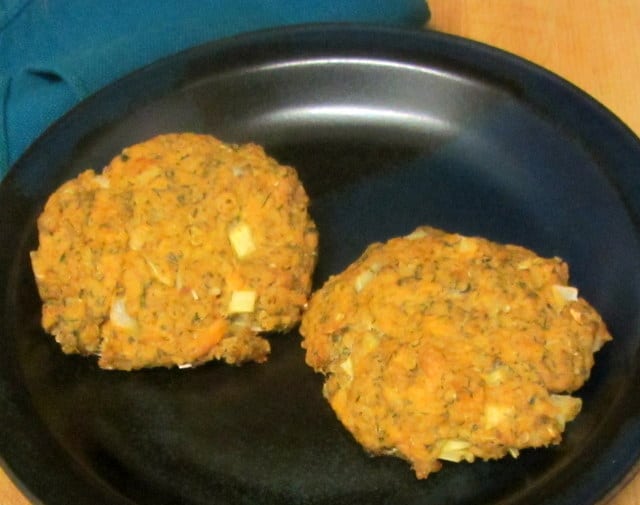 Salmon patties (salmon cakes, salmon burgers) are a pretty common, basic American dish. You take the readily available can of salmon – a good pantry item – and add an egg and some kind of breading to hold it together, season it, and either pan fry or bake it. Leftovers reheat well, and aren't bad cold, so they work in lunchboxes. All together, good for a range of needs – from "I didn't get to the store" to "Sure he can stay for dinner!" And some people who don't like other fish do like these.
For some reason, despite these advantages, I'd never made them much. I'd never really settled on a recipe, I rarely had bread crumbs, pan frying them felt like too much fuss for what should be a simple meal…
Bread crumbs. Well, now I need to find a substitution for them anyway… I'd used oatmeal in meatloaf and the like, but that doesn't work for me any more, either. I decided that I'd rather experiment with salmon patties, since I didn't have a firm idea of what they Should taste like… and could just see if various subs worked or not.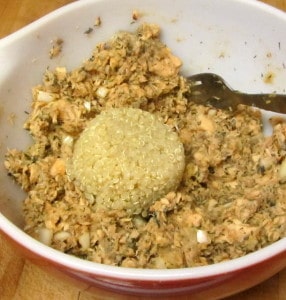 I settled on quinoa. Cooked quinoa does cling together a bit, and it does still absorb moisture. The breading is in dishes like this to absorb egg and moisture from the meat or fish, so the food binds together nicely, and is moist, not dry. (You can also add more to stretch a recipe – useful in some cases, but not the only reason.)
The recipe is easy enough. I opened the can of salmon, and put it in a bowl. I use canned salmon rather than fresh, because the canned is wild caught Alaska salmon, and the fresh is farmed… and there are issues with farmed salmon. (Some fish – tilapia and catfish, for instance, can be farmed without problems. Salmon, though…) I can sometimes get frozen wild caught Pacific salmon, but for this, canned is fine.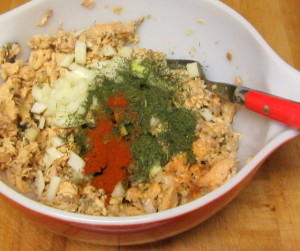 So I put the fish in a bowl and flake it, mushing in all the bones (which you can remove, if you prefer – but they are a good source of calcium. Another advantage to the canned.) Then I added seasoning – some minced onion, dillweed, and a touch of smoked paprika, for depth of flavor more than heat or a specific taste. I stirred it in well, added an egg, stirred it in, and added the quinoa. I used a quarter of a cup of cooked quinoa – a ridiculous amount to cook by itself – so I cooked a batch, used this, and put the rest away for a later meal. (One can also, of course, efficiently cook it earlier and just reserve the amount you'll need for the recipe.)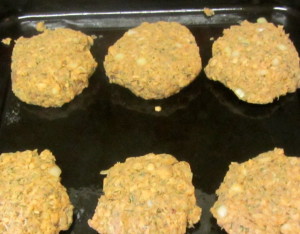 Once everything was added, I stirred it in very well, wanting a consistent texture and flavor. Then I formed patties and placed them on an oiled baking pan. Then I put them in a preheated oven and baked at 350° for half an hour. When I took them out of the oven, I let them rest a few minutes.
Baking worked well, though it didn't give me the crunchy bits that frying would. I was willing to take the tradeoff for ease – I made these for lunch, so being able to just stir a few things together then bake them was ideal. I made 6 patties – ate some then, microwaved 2 that night for Rich when he got home late and hungry (He'd had dinner, sort of… but…) They reheated quite nicely.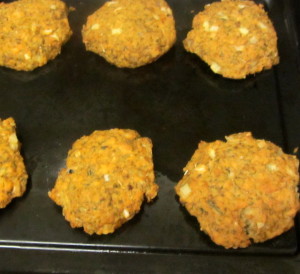 We ate them plain, but a touch of tartar sauce, remoulade sauce, or dill mixed in yogurt would have been a nice touch.  It would be easy to double or triple the recipe, for more people, of course, but also to have some to pack in lunches or have on hand for a super quick meal. I think the quinoa worked nicely – they were tender and moist, not bready (as an earlier version had been) but didn't fall apart, either. The salmon flavor came through clearly. I will definitely double this recipe and freeze the baked patties, for an easy and quick meal on a long day.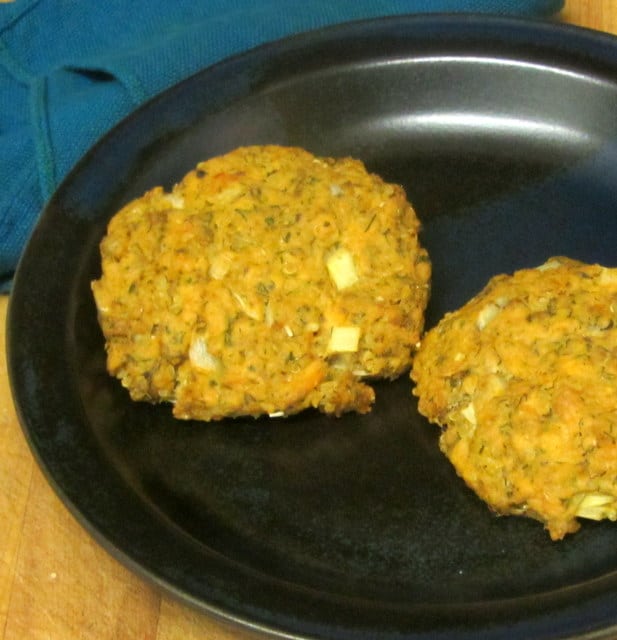 Linking to Gluten Free Wednesdays, at the Gluten Free Homemaker
and Gluten Free Fridays  with the Vegetarian Mamma
Salmon Patties with Quinoa
Bake gluten free salmon patties with quinoa, for a quick and easy meal from foods you can always have on hand.
Ingredients
1

can salmon

14.75 oz

half a small onion

chopped fine

2

t

dried dill

or 2 T minced fresh dillweed

1/2

t

smoked paprika

1

egg

1/4

c

cooked quinoa
Instructions
Preheat oven to 350.

Place salmon in a mixing bowl. Remove bones if desired, or else break them up well. Flake the fish.

Add all other ingredients, stirring well.

Form 6 patties. Place on a greased baking sheet.

Bake at 350 for half an hour.

Let rest for five minutes, then serve.
---
---