Pressure Cooker Beef Stew
You see, there's this pressure cooker…
I had an old stovetop pressure cooker, which had been my mother's, some 30 years ago, and was never really fond of it. For one thing, I was still eating white rice more than brown, canned beans more than dried, so the time saving there wasn't as important. And I had to time everything carefully, so while cooking was fast, it was also – intensive – and I really wanted to relax when I came home.
But the deal breaker for me? Many recipes I tried required quick pressure release, which in a stovetop pressure cooker meant I was supposed to pick up the pot and put it in a sink full of cold water. While that kitchen was larger than this one, it managed to have even less counter space, but a huge sink – at the other end of the room from the stove – so three quarters of the way through cooking dinner the sink was full of everything I had used along the way – the cutting board, the knife, a mixing bowl, etc. Clearing all that away and pouring in gallons of water, then carrying a heavy hot pot over?  I don't think so… I used it sporadically, then I couldn't find the jiggler, and I did not mourn it. I preferred the slow cooker – it took longer, but that was not my time, and the whole experience was more laid back. And I've been using that for years.
But a few years ago I was regularly doing demos in a cookware store where I ended up working near a display of electric pressure cookers. They have new features. They have their own timers, I would not have to hover with a kitchen timer. You certainly don't put them in a sink of water! So it was tempting… but I could not quite justify it to myself. But then, when a friend who was downsizing offered me his… I took him up on the offer.
But it sat for months carefully Put Away… while I researched. Then we found a more accessible place to put it, and I'd haul it out and set up on the dining table (because there was no counter space!) and try it. And… two weeks ago I rearranged the kitchen to make room for it… and I'm really using it.
One basic thing I have learned is that electric and stovetop cookers have different timing, and sometimes need slightly different methods – so everything I write will be about my electric cooker, since that's all I have. And this is not my field of expertise! I am learning, and sharing the process with you.
Remember the browned stew meat I wrote about last March? I took a round roast, cut it in bite sized pieces, and browned them, then cooled and froze them for use in later recipes. It's a wonderful method with a slow cooker – you don't have to fool around with a frying pan in the morning when you're trying to set up the cooker, just pop them in! But it is also a time saver with a pressure cooker. And – if you have that, it is actually not insane to make just one or two servings of stew in the pressure cooker… so if you don't have room for leftovers (but do have just enough freezer space for the browned meat) this works. Or if you just would like to vary the recipe! (My slow cooker is large, so I have room for, say, a  pork shoulder – but that means it's hard to make smaller recipes in it.)
I've made this pressure cooker beef stew a couple of times, now, and it's ready to share. It's very basic, very plain, throw together with very little effort… which is the point of having this gadget, as far as I'm concerned…
I took a pound of the cubed and browned stew meat out of the freezer and put it in the fridge that morning to start thawing. (OK, so the night before would be a good idea.) That's all I had to do in advance.
I'm still really learning timing… One thing that annoys me a bit is that most things I read about pressure cookers tell you happily "Cooks in only 10 minutes!" without mentioning that it will take 10 minutes to come to pressure, and then after cooking you should allow a natural release of pressure, which is another 10-15 minutes, and we're talking half a hour or more all together – which still much less than – say – the hour or even more that recipe might take conventionally, but also is not ten minutes! So right now, I allow more time for everything than I probably need, to make sure I get dinner on the table. (And I will count that time in my recipe!)
Anyhow – I took out the pound of meat (I made four servings, so we'd have a dinner for later in the week) an onion, and potatoes and carrots. Also a can of diced tomatoes. I have found that the tomatoes cook down into a rich beefy sauce… Washed them, and went to work. I turned the cooker on to Saute, and peeled and chopped the onion while it heated, then added oil and then the onion to the pan. I stirred that, and then stirred periodically while I cut the rest of the vegetables, in large chunks so they would not overcook while the meat cooked – we don't like our vegetables mushy.
Once they were cut up and the onion was soft, I added – in layers, in this order – the meat, the can of tomatoes, a little dried basil and oregano, the carrots, and last of all the potatoes. Then I sealed the pot (Make sure the pressure valve is sealed! Surely we don't need to discuss how I know this…) and set it on High Pressure for ten minutes. Then I went and sat down, and relaxed…
When it beeped to tell me that it was fully cooked, I made a note of the time, and asked Rich to set the table. I allowed Natural Pressure Release – let it go a little more than ten minutes, then released any steam left, and served. (And remember – read the manual of your own pressure cooker to know how to do all this!)
The carrots and potatoes were tender, not mushy (though I'm afraid I broke them up a bit, digging down to make sure we both got our share of meat.) the tomatoes had fallen apart, and picked up a great deal of flavor from the beef, which in turn had their flavor. The beef was very tender – for reasons I fail to understand, pressure cooking tenderizes meat when I would expect it to toughen it.
If I had already had the sauteed onions I sometimes keep, it would have been even more streamlined – I'd just have layered everything in and turned it on. On the other hand, if I did not have the browned beef, that would have just been another step – use the Brown setting to brown it first, then remove it and proceed with the Saute setting, the onions, and the rest of the recipe as written.
I stripped this down to basics. There are all kinds of suggestions for cooking vegetables separately, or adding them part way through, so they don't overcook – but I found the small pieces of meat, large pieces of vegetables, and layering worked well enough for everyday… A very easy stew, made in well under an hour (including prep time) so a simple practical weeknight dinner.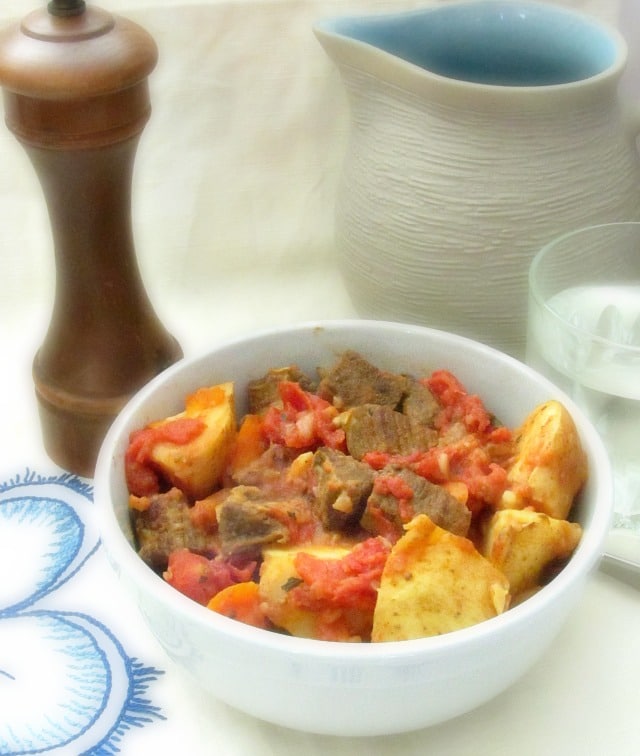 Pressure Cooker Beef Stew
Fast and easy, a simple stripped down pressure cooker beef stew - using pre-browned beef cubes - is a wonderful weeknight dinner!
Ingredients
Olive oil for pan

1

onion

peeled and chopped

1

lb.

stew beef

pre-browned

1 28

oz

can diced tomatoes in juice

1

t

dried basil

1/2

t

dried oregano

4

carrots

cut in large chunks

6

potatoes

cut in large chunks
Instructions
Set electric pressure cooker on Saute. When it heats, add oil, then onion, and saute until onion softens. Turn cooker off.

Add, in layers, the beef, tomatoes, herbs, carrots, and potatoes on top.

Seal pressure cooker. Set on High Pressure for 10 minutes.

When the cooker beeps that it is done, note the time. Allow natural pressure release for 10 - 15 minutes, then release any remaining pressure, and serve.
Notes
Note: This recipe is written for an electric pressure cooker. If you have a stovetop cooker, timing and some technique may vary.
---
---