Mini Meatloaf Muffins
Mini Meatloaf Muffins – say that three times fast…
Well, OK, that's a little bit of a cheat – they're mini meatloaves, but not mini muffins… it's a regular sized muffin tin…  but, still. It's fun to say.
Meatloaf is a great make ahead dish. It freezes well, it reheats well, it tastes good cold, it's wonderful to keep in the freezer and have when I suddenly need a meal quickly – and I don't make it nearly as often as I should… And part of the reason is that it takes an hour in the oven.
But recently, a few times when I made a loaf, I also put some of the meat in a muffin tin – and that worked beautifully. The "muffins" froze individually, without me having to fuss to keep them from sticking, they microwaved easily, I knew how much was in each piece so meal planning was easy. Every piece had lots of the good crunchy part. The only drawback is that they don't make good sandwiches, but neither of us is particularly fond of sandwiches…
Best of all – they cooked in only half an hour. And it finally occurred to me to just bake the whole batch in muffin tins (Yes, between one thing and another I have a lot of muffin tins…)
All right – meatloaf itself. See, I only started cooking it relatively recently. My mother almost never made it, when I was growing up (I think my father disliked it.) Then, for years, I ate very little meat (and cooked less.)  When I decided I did want to try it, I looked around for The Meatloaf Recipe – and was confused because there were so many, and they were so different. But – what was good? What was the One True Meatloaf? Well… there is none. I finally realized they were so different because it's really more a concept than a recipe… and every cook makes it the way she likes it. (I need to remember that search, when people ask me for recipes for things I think "everyone " knows how to cook… no – everyone does not.) Obviously, you can bake your own favorite meatloaf in the muffin tins as well – but here is a recipe to get started with, if you want one.
This is a fairly simple, basic one. It makes a lot, because I always make a lot of meatloaf – a major point of the operation is to have cooked food for later. I mixed ground pork and beef, as that's what I had – sometimes I also add turkey or chicken, sometimes I sub that for one of the other meats. I don't use poultry alone – I think that's too dry. You can, if you like it… I almost always use rolled oats as my grain, as I really like the texture I get. This time, I just put in 2 cups of oats, and four eggs – thinking about it, with the same amount of meat I could have easily added 3 cups of oats and 6 eggs… I don't usually add liquid, other than the eggs – the oats end up absorbing the juices from the meat. I do often add vegetables, though – lightly sauteed onions,with or without pepper and garlic, very often. Sometimes I even chop cooked greens very finely, and mix them in – surprisingly good. If I add a lot of vegetables, I do add the higher amount of oatmeal – vegetables add moisture…
Anyhow – what I actually did, this time. I had one and a half pounds of ground beef, and about a pound and three quarters of ground pork. (I would probably say a pound and a half of pork – for three pounds, all together – if I were planning this. But a pound and three quarters is what I had… so I used it.)
I took a large bowl, and mixed the meat. I realized that you can't see – but that's a two tined carving fork… I want it mixed lightly, not pressed together with a spoon. Then I added the eggs, and mixed that thoroughly – it's easier to mix it with the wet eggs. That's a good time to add any vegetables or seasoning, too, for that reason. I used Spike and a sprinkle of hot pepper flakes. The oats were last. That takes a fair bit of stirring, to be sure they are distributed evenly.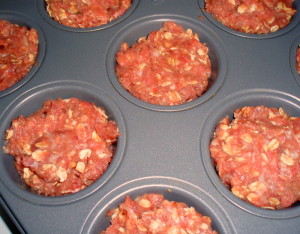 Then I used a soup spoon to scoop the meat mixture into the muffin tins. As it happens, these are all non-stick – but I have a set that are not, and I have never had to grease them – there is enough fat in the meat so that they don't stick (though the not-non-stick ones sometimes take a bit more… urging… to get out in one piece. And that would be more an issue if you used mostly chicken…) I don't find that the muffins get greasy, which I'd been concerned about… I'd always made meatloaf on a rack, but really, I lost more juices than fat, doing that, judging by the pan.
I baked them in a preheated 350° oven, for 30 minutes. Took them out, let them rest a few minutes, then used a silicone spatula to release them from the tins. (This is the first time I thought of that – worked very well.) Took pictures of that – but then didn't take any of them on a plate with our full dinner… oh, well. They were good… Crisp and moist and savory. 
This amount gave me 2 dozen muffins. I could have gotten another couple of ounces in the same spaces, I think – just barely – and a couple fewer would have been all right… though they would be smaller muffins. Most of them are now in a gallon zip bag in the freezer, waiting to be needed.
Edited to add: I wrote this up before I went gluten free. If you need to avoid gluten, make sure you have certified gluten free oats – typical oats can have some wheat mixed in.
Mini Meatloaf Muffins
Ingredients
1

lb.

ground beef

1 3/4

lb.

ground pork

4

eggs

1

T

Spike

1

t

red pepper flakes

2

c

Old Fashioned rolled oats
Instructions
Preheat oven to 350.

Mix both meat and eggs well in a large bowl. Add seasonings, mix well.

Add oats to meat mixture, mix until well distributed.

Fill muffin tins with mixture (about 24 muffins - 2 dozen tins.)

Bake at 350 for 30 minutes.

Let rest 5 -10 minutes before serving.
Save
---
---