Ham and Cheese Casserole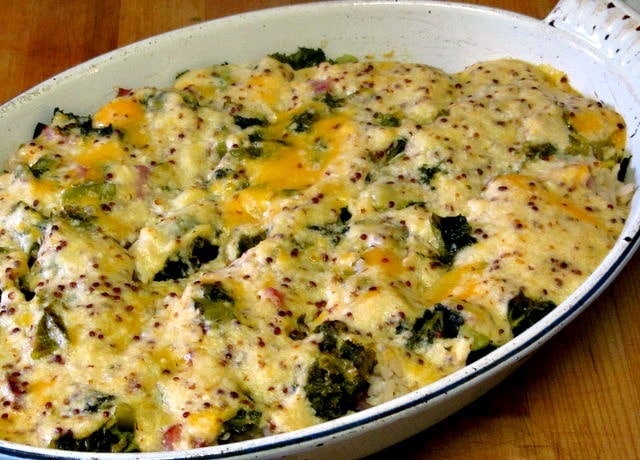 It is the week after Easter.
Leftover ham is not nearly as ubiquitous this week as leftover turkey is the last week of November… First of all, of course, many people simply don't celebrate Easter at all. And for those of us who do, while ham is, indeed, a popular choice, there are others. We had ham largely because ham was on sale, and we can always use ham… and I'm sure there are people not celebrating Easter who bought it for that reason alone, without putting it on a holiday table.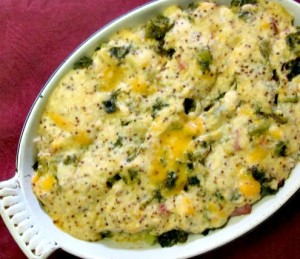 But we ate, and enjoyed, ham… and now there is plenty of ham in the freezer, and I had ham and eggs for breakfast, and I'm cooking bean soup with the ham bone, and – I made a basic ham and cheese casserole, and thought I would share it with anyone else trying to use up leftovers, or make an easy dinner.
See – everything here, other than the sauce, was already cooked – I really just had to heat it all up. And the sauce is simply a variation of the Chipotle Cheese Sauce I wrote about last Fall – with mustard, this time.
I pulled out a 4 cup gratin dish – but any quart casserole will do. And, for this, I prepared my ingredients – took out a pint of cooked brown rice, diced about 5 ounces of ham (for roughly 1 cup,) cubed 3 ounces cheddar cheese (half a cup.) Then I chopped the kale – about 1 cup packed.  You could use any cooked greens you like – including frozen spinach – just chop it so you don't have long bits trailing cheese sauce when you're trying to eat… I also took out a jar of mustard, for the sauce. I set these all out in a mise en place – with everything ready to use.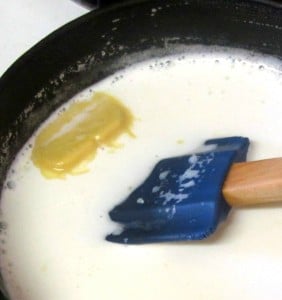 Then I made the cheese sauce. I used a cup and a half of milk, added 2 gf roux cubes, heated it over a medium heat, and stirred regularly until it started to boil and thicken. There is an annoying phase when the roux is dissolved and it looks as if it will never thicken – just keep heating and stirring until it starts to simmer… (Keep stirring any time you heat milk, to prevent scorching.) This makes a relatively thin sauce to begin with – don't worry, it will thicken.
Once it started to boil and thicken, I turned off the heat, and stirred in about a tablespoon of prepared mustard. (This is grainy – you can see the mustard seeds in the sauce!) And remember, there is vinegar in mustard, you want to make the sauce first, and then add the mustard, to prevent curdling. (And, if it does happen to curdle, just keep going – the roux really smooths that out amazingly well, I have learned from experience…) Then stir in the cubed cheese, and keep stirring as it melts. I didn't worry about it being completely smooth for this dish – cheesier bits added interest.
Once I had the cheese sauce, I poured a little of it into a one quart baking dish. I used a gratin dish, but deeper pan will work. Then I layered the rice into the cheese sauce and smoothed it.  I added, in turn, the ham in a layer, and then the kale, each distributed evenly.
At that point, I poured the rest of the sauce over the prepared casserole. The thick sauce does have some tendency to sit on top, so I use a silicone spatula to ease the food away from the sides, and poke holes in the middle for it to run down into. I did want to preserve the layers, but bring the cheese down a bit to bind it all. (You can also just mix everything up in a big bowl and then put it in the baking dish. Not as pretty, just as tasty.)
Then I baked it at 350 for 20 minutes. If I were using a deeper dish, or if the sauce wasn't still warm, I'd give it longer – but everything except the sauce had been right  out of the fridge, and the 20 minutes were enough.
So, well – it's really leftovers… but it was pretty good…
Ham and Cheese Casserole
A ham and cheese casserole, with kale, bound together with an easy cheese sauce.
Ingredients
1

c

5 oz diced ham

1

c

chopped cooked kale

or other greens, packed

1/2

c

3 oz cubed cheddar

2

c

cooked brown rice

1 1/2

c

milk

2

roux cubes

1

T

prepared mustard or to taste
Instructions
Prepare and set out the ham, kale, rice, cheese.

Put the milk into a small heavy saucepan. Add the

roux cubes

and heat, stirring regularly, until it starts to boil and the sauce thickens. Removed from heat. Stir in the mustard, and the prepared cubed cheese until moderately smooth.

Pour about a quarter of the sauce into the bottom of a 1 quart baking dish. Carefully spread the rice into the sauce so that it covers the bottom of the pan. Layer the ham, and then the kale over the rice, distributing each evenly.

Carefully pour the rest of the sauce over the casserole.

Bake at 350 for 20 minutes

Let rest for five minutes before serving.
Save
---
---