Gluten Free Strawberry Muffins
I always feel a little silly writing "Gluten Free" in a recipe title – after all, everything I cook is gluten free, I couldn't eat it, otherwise! – but I've learned that this makes it easier for other people just looking for something they can eat, who may not be familiar enough with Inhabited Kitchen to know, and who might otherwise just skip recipes for baked goods. But these gluten free strawberry muffins are good enough for everyone to eat, whether you avoid gluten or not!
A year and a half ago, when I was quite new to gluten free baking, I posted a recipe for Apple Cinnamon Muffins, and wrote "A year from now I'll look back and laugh (I hope,) and know that if I "just tweak this" it will be so much better…  but this way, we all know where I started."
Baking muffins, as I wrote then, is a good way to experiment with different kinds of flour, and learn their properties. And I have learned about gluten free flour. I made the Apple Cinnamon Muffins with a blend of rice and millet flour, but found that while it was pretty nice, it was also a little sandy, and bland. I wanted better texture and better flavor.
Flavor first – I have since learned to mix millet and sorghum flours half and half for a mild but pleasant flavor, without the gritty feel. Texture? I needed something with a slight… stickiness… to give it a nice crumb. I often use masa harina for this – it's readily available, inexpensive, and has a mild flavor, but I wanted to have an option for people who can't eat corn. Teff worked beautifully in the Gingerbread Muffins, but it does have an assertive flavor – a feature in a spice muffin, but not others.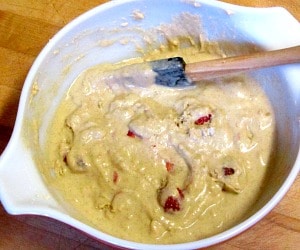 But – buckwheat… I noticed the viscosity when I made pancakes. But the toasted buckwheat we usually get is definitely assertive… I love it, but it does stand out. That's toasted buckwheat, though… I read some things about using raw buckwheat, and grinding your own, and… Then I happened to buy a bag of Arrowhead Mills, and was surprised (when I opened the paper bag) to find how light it was! I'm so used to the default buckwheat being toasted…  (This is not, BTW, a sponsored post, an endorsement, any affiliation whatsoever, I'm just telling you the brand that I found that worked for me in this recipe. I'm sure there are others, I just don't know what they are. Yet. And of course I don't know brands outside the US.) The flavor is very mild, you can see the stickiness in the batter, and the muffins rose beautifully.
Once I'm past the flour selection, it's a basic muffin recipe. The whole reason I wanted to make a simple, slightly vanilla flavored muffin was to add fruit – I plan to eat these all summer with blueberries, blackberries, peaches and apricots… But now – strawberries. Glorious, fresh from the farm, fully ripe, sweet-tart strawberries…
Preheat the oven to 425°, and grease a 6 cup muffin tin.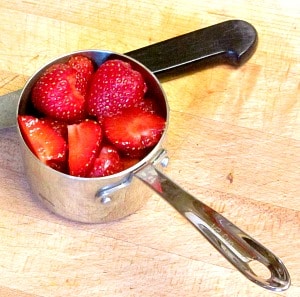 Wash your berries – or other fruit – and cut them if needed so that you have half a cup of small bits of fruit. More or less blueberry sized – I did cut all the strawberries at least in half, some in quarters, but I would not cut, say, a large blackberry, for reasons of texture.
Put a small bowl on your scale, and measure out 80 grams of millet flour, 80 of sorghum flour, and 40 of buckwheat. (Or 200 grams of your preferred flour mix, if you'd rather – I'm probably going to just mix up a batch of this flour blend for use all summer… I think most blends should work, but I can't, obviously, guarantee them – the muffin will not be quite the same.) Then add a pinch of salt, a teaspoon of baking powder, and blend well. Set aside.
In a slightly larger bowl, beat one egg. Then add three quarters of a cup of milk, two tablespoons of a neutral flavored oil of your preference (I generally use canola oil, but I find people have strong preferences – the key here is that the flavor not intrude) and a teaspoon of vanilla extract. Beat all this well.
Toss the fruit – strawberries, here, or other – in the flour mixture to coat – this helps prevent clumping. Then add the flour mixture to the milk and egg mixture, and stir until well blended. (Again, without gluten, you don't have to worry about overmixing!) Pour the batter into the muffin tin, and bake at 425° for 25 minutes.
When you take them out of the oven, let the muffins rest in the tin for about five minutes. They shrink away from the pan very slightly, and firm up – so they're easier to remove without breaking, and to eat without them falling apart. Then serve. And enjoy…
What on earth can I eat, if not wheat? Well – warm, homemade, gluten free strawberry muffins… Not bad at all.
Gluten Free Strawberry Muffins
These Gluten Free Strawberry Muffins are also whole grain - no added starch or gums. Use the base recipe all summer with other fruit!
Ingredients
1/4

c

cut strawberries

or other fruit

80

g

millet flour

80

g

sorghum flour

40

g

raw untoasted buckwheat flour

1

t

baking powder

pinch

salt

1

egg

3/4

c

milk

2

T

neutral oil

1

t

vanilla
Instructions
Preheat oven to 425. Grease 6 cup muffin tin.

Wash and cut strawberries (or other fruit) so you have half a cup.

Place a small bowl on your scale, and measure the three flours into it. Add baking powder and salt, and blend well. Set aside.

Beat an egg in a somewhat larger bowl. Add milk, oil, and vanilla, beat well.

Toss the fruit in the flour mixture to coat. Add flour mixture to the wet mixture, and stir well to blend thoroughly.

Pour into greased muffin tine. Bake at 425 for 25 minutes.

Remove from oven and let rest five minutes, then remove from baking tin, and serve.
---
---