Eggs Florentine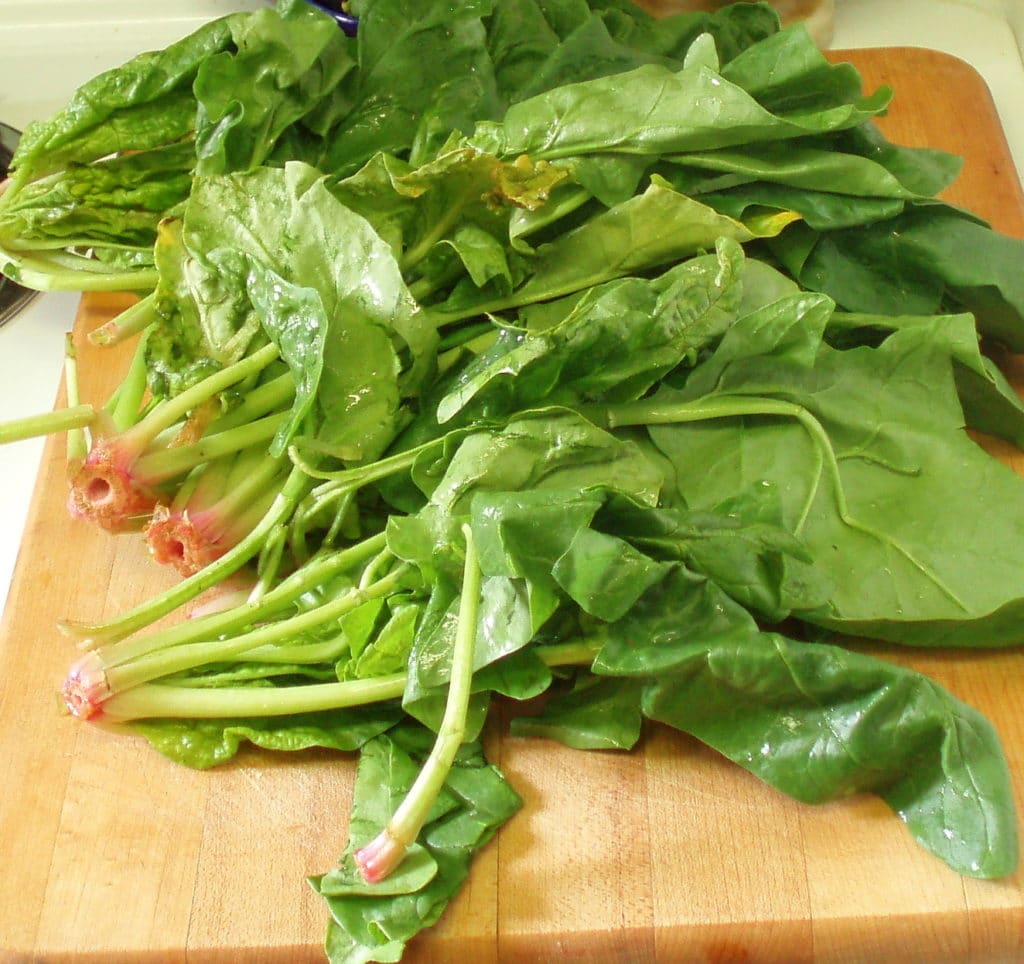 It's spinach season… That lovely dark green vegetable actually requires cool weather, so it is always one of the first vegetables to reach the market. (Though it's in the 80s today… when we finally got warm, we went straight for summer!)
Spinach goes beautifully with eggs – the filling in an omelet, chopped into scrambled eggs, and this classic – eggs Florentine. In cooking, Florentine generally means there's spinach involved. I often do a shortcut version – cook the spinach, break a few eggs into it right in the pan, cover and cook until they set. This is a handy thing to do with already cooked spinach, too – cook the whole bunch at night, then have what wasn't used at dinner for lunch the next day. (And I use other cooked greens – even though that's not technically Florentine – it's still good.)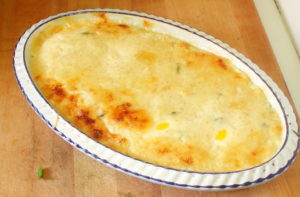 There seem to be two versions of Eggs Florentine kicking around. The one I've seen served at restaurant brunches is often a vegetarian version of Eggs Benedict – use spinach instead of Canadian bacon, but keep the English muffin and the Hollandaise sauce. The classic, though, skips the bread, and uses Sauce Mornay.
And what is Sauce Mornay? Just the same white sauce from the last post, with cheese added… Classically a mixture of Gruyere and Parmigiano, but other cheeses are sometimes substituted.
Well – here I am, with spinach, with eggs, with Jarlsberg cheese (OK, it's not Gruyere… but a similar type ) and with a method for making cheese sauce I want to demonstrate. I wasn't actually planning to do a cheese sauce for another few weeks, but… it does just make sense.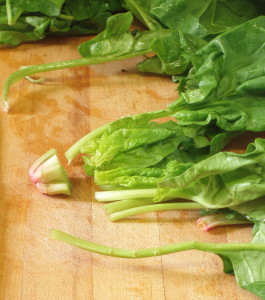 The first thing to remember about fresh spinach is that it is sandy. If you get it from the farmer (as I do) it is probably very sandy – but even the washed leaves in cellophane packages at the supermarket may still have some sand – wash it. I get it with the lovely pink root ends, or crowns, which I understand are a delicacy in some places – but whch need fussing with a toothpick to get all the sand out – I cut them off… Then, I chopped the leaves. Since this is very young, I did keep the stems and chopped them small, but you can also discard them (especially if they are getting stringy) or reserve them for something else. (I sometimes use them for cream of spinach soup – which is, after all, pureed.)
I washed the spinach, and used a salad spinner to spin it dry. Then I heated just a little olive oil and butter in a saute pan, added the spinach, and tossed it with the hot oil. Then, I covered it to let it steam 4-5 minutes – and then it really cooked down! (The second thing to remember about spinach – it cooks down remarkably.)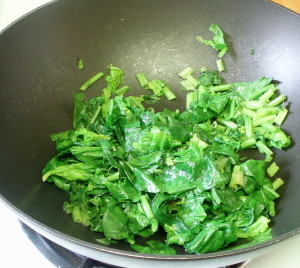 I removed it from the pan, pressed out the liquid (which is juices from the spinach) back into the pan, and arranged the spinach in a baking dish.
Then I used the same pan to make the sauce. Why dirty another pan? Why lose the spinach juices and bits left in the pan? I want the spinach to cool a little before I add the eggs anyway…  If it makes more sense for you, though, use another pan to make the sauce while the spinach is cooking. It might save five minutes – and there are days that is worth it…
I poured a cup of milk into the saute pan, and added one roux cube. (ETA: or use a gluten free roux cube. I originally wrote this post before I went gluten free.) Stirred. Got out the Jarlsberg cheese (I didn't have Parmigiano) and cut it into cubes. When the sauce started to thicken, I added the cheese, and stirred it in.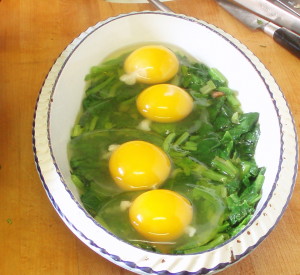 While the cheese melted and the sauce continued to thicken, I carefully broke four eggs into the pan of spinach. (Pausing in between eggs to stir the sauce.) Once the cheese had all melted, and the sauce was thick, I spooned it carefully over the eggs. I then placed it into a preheated 350 oven to bake.
I checked after 20 minutes, but it wasn't cooked enough (I like my eggs very firm.) 25 was fine.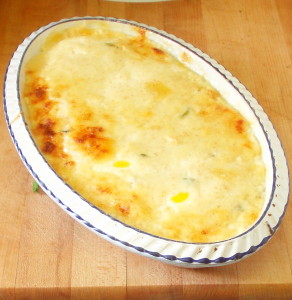 This was a light lunch for the two of us – served with toast. It would also be a lovely first course or side dish for four. It might be fun to bake it in individual ramequins as a first course – start checking for doneness at 15 minutes. And it could easily be doubled, or more, using a larger baking dish. (In which case, you would need to bake it longer.) And another option is to mix the sauce in with the spinach, and place the eggs on top of the mixture. For a brunch, I'd probably cook the spinach ahead, so I didn't have to mess with it in the morning, and make the sauce while I was assembling the spinach and eggs in the baking dish. Into the oven in just the 10 minutes you need to preheat! The wonders of a quick and easy sauce.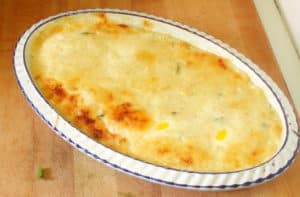 Eggs Florentine
Ingredients
1

bunch fresh spinach

olive oil for pan

1

c

milk

1

roux cube or gluten free roux cube

3

oz.

Gruyere

or Swiss Type - such as Jarlsberg or Domestic Swiss cheese, cubed

4

eggs
Instructions
Preheat oven to 350.

Wash spinach carefully,and chop. Saute in pan, then steam until wilted. Place in baking dish.

Place milk and roux cube in saute pan. Bring to a simmer, stirring occasionally. Add cheese and stir in until melted.

Break eggs, and arrange raw eggs on the spinach. Carefully spoon sauce over the eggs and spinach.

Bake at 350 for 20-25 minutes, until set.
---
---