Easy Roast Chicken
I used to sell cookware. Doing so, I would often talk to customers about cooking.
Now, sometimes the customer was an experienced cook who simply enjoyed talking about something enjoyable, sometimes it was a person looking to take her cooking up to the next step, and sometimes it was a person who really didn't cook much at all, but was starting to think about learning.
One of the people I worked with had a goal – teach the world (or at least, everyone who came through the department) to roast chicken… It seems a worthy goal, and I started doing it, too. I found people thought it had to be complicated, that it took all day, that it required some form of alchemy.
Now, like any cooking, it can be as complex as you want it to be. You can stuff it, season it, make gravy, and these are good  things. (And they will be discussed in later posts – this is the Foundation recipe.) You can even bone it and stuff it with a smaller (also boned) bird, or with forcemeat, and really make a production of it, but, you know… really? Not as a normal meal, I don't think… Maybe if you're catering a wedding, but that's not what this blog is about.
You can also strip it down to absolute basics, and you still have a delicious roast chicken, with an attractive presentation (and lots of tasty leftovers…  always useful.) And that's what I'm going to talk about here.
This is the way I used to describe it… "Put the oven on to 350º. Take the chicken out of the fridge, unwrap it, remember to remove the packet of giblets. Sling the chicken in the pan. Cook for about 20 minutes a pound. That's it…"
And that basically is… though I'll give you a little more detail, here.
First – the pan. I was selling pans, then, so I didn't have to go into much detail – I could just point at my product. But there is a pretty wide variety.
Ideally, you want a pan with a roasting rack. This holds the meat up out of the drippings, so the bottom isn't simmering in juices or frying in fat (or both…) Most roasting pans sold as such do come with a rack – you may already have one. You can also get a separate rack that can be used in various pans, which is what I have. It folds flat for storage, and then can be set up in the pan for use. The pan itself is the same one I use for, oh – baked squash, or lasagna, or roast vegetables, or… Most people have some sort of rectangular baking pan.
If you don't have any kind of roasting rack, one option is to use vegetables in the bottom. Scrub carrots and celery, but don't cut them, and place them crisscrossing the bottom – they'll simmer in the drippings (which won't hurt them at all) and help keep the meat up. I sometimes even put vegetables under a rack on purpose – but that's getting more complicated…  (If you do use them, then keep them for the soup we'll make later…)
Preheat the oven to 350º. Put the rack in the roasting pan. (Make sure the pan, with the  bird, fits in your oven, if you haven't roasted anything lately and might have moved an oven rack… preferably before heating the oven… Do you really want me to tell you how I know you should check this?) Unwrap the chicken. I usually do this in a clean sink, so that the liquid that will come from it doesn't make a mess and can be washed away easily. I don't either wash or dry the chicken itself. (Roasting itself will kill any bacteria much more thoroughly than any washing could.) Carefully remove the packet of giblets. If you plan to make soup from the carcase – which I highly recommend , and will discuss next week – keep the giblets in a sealed container in the refrigerator. (Or give the liver to the cat, if he likes it – mine don't, but the one I had years ago did. Keep the neck away from him, though. Chicken bones are bad for pets.)
Place the chicken, breast side up, on the roasting rack. At this point, sometimes people pop a bunch of herbs, or an onion, or some aromatic into the cavity – I didn't, here, because this is basic… you don't have to. Put a splash of water – 1/2 cup or less – in the bottom of the pan. This helps keep drippings from spattering and smoking. Once the oven is hot, put the chicken into the oven. Note the time, and go relax… (It's going to smell wonderful.)
At 350º, it usually takes about 20 minutes a pound – a bit more for a small bird, a bit less for a large one. Your timing doesn't need to be precise, for your dinner – when you take it out of the oven, it's good to let it rest for something between 10 and 20 minutes. (Half an hour won't hurt it…) This lets the meat reabsorb the juices, so it is tender and moist, and you don't just have juices dripping out all over when you cut it. And timing will vary (as I always seem to say) by your oven, the temperature of the meat when it goes in, how long you opened the door to put the meat in (which lets the oven temperature drop) and so on.
The important thing to watch  isn't the time – it's the temperature. For safety, chicken should reach an internal temperature of 165. At that point, it is cooked – cooking it longer will only dry it out and make it tough. In this case, I had a chicken from the supermarket with a pop up thermometer gauge – which can be very handy if you don't have a thermometer yourself. I do suggest an instant read thermometer, though – there are usually inexpensive ones in supermarkets at this time of year, as well as better ones in any cookware store or department. The advantage of this over the pop up is that it tells you when you are close – the pop up can't tell you if it's likely to be another 2 minutes or 20… I just used the pop up here, though. Most chickens sold as roasters in supermarkets these days have them.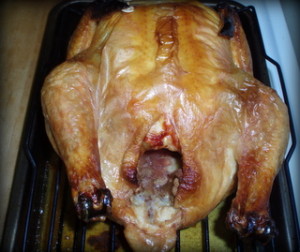 You need to check it before you think it is ready, just in case. I usually look about 10 minutes before I expect it to be done, and then every 5-10 minutes after that until it is. This time, the popup was up the first time I checked, so I took it out and put it on top of the stove to rest. (And took pictures. I have no idea why I didn't turn it sideways to get a prettier picture… I still have to get used to this.)
The neat thing about the resting time is that it's a good chance to finish pulling the rest of your meal together… Cook the  prepared vegetable, put out any side dishes… pour the tea…
Then transfer the chicken to a  carving board, cut it up, and enjoy! (Don't worry if your carving isn't artistic… ) And then you have cooked chicken for the rest of the week – for salads, for sandwiches, to carry cold in a lunch, to reheat in a sauce… to put in the soup you can easily make from the carcase…  (I'll  post about soup next week.) A weekend afternoon is a great time for this. You hang around the house, watch the game, do the laundry, read the paper, play with the kids, whatever you do on a Saturday or Sunday afternoon – and then you have a nice dinner and food for the week. Win-win.
Oh – if you want, pour off the drippings into a heat proof container and save them. The fat rises to the top and you can either use it in cooking or discard it, and the drippings under it have lots of flavor – add to soup or a sauce, pour over plain rice or potatoes… Even, right now, just skim off most of the fat and pour the rest over potatoes with the meal. If that still feels complicated – don't worry about it… You have chicken!
Useful USDA charts – I like having resources like this at my fingertips.
Safe minimum cooking temperatures 
Meat and Poultry Roasting Chart (times and oven temperatures)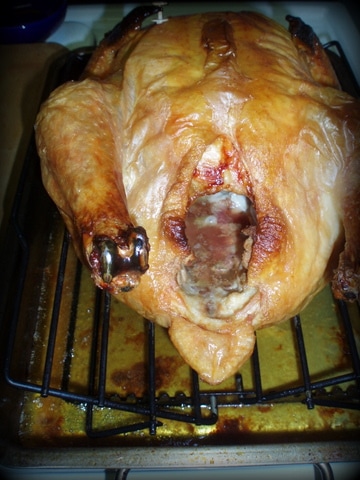 Easy Roast Chicken
A very easy, basic roast chicken recipe.
Ingredients
1

roasting chicken

about 5-7 pounds
Instructions
Preheat oven to 350 degrees.

Unwrap chicken, remove packet of giblets.

Place chicken on rack in roasting pan. Pour 1/2 c water in the bottom of the pan.

Roast for 20 minutes per pound, until it reaches an internal temperature of 165. (Check about 10 minutes before you expect it to be done - timing will vary.)

Remove from oven, and let rest for 10-20 minutes.
Notes
Precise cooking time will vary - allow 2 - 2 1/2 hours.
This is a Foundation recipe - all recipes for roast chicken are based on this.
---
---