Easy Pot Roast in a Slow Cooker
Make an incredibly easy pot roast in a slow cooker! The meat and onions cook down to create their own gravy – you don't have to do a thing.
ETA: I first wrote this post five years ago! I was just starting, pictures were terrible, and again, one of my best recipes was lost in the back of the cabinet… So I pulled it out and dusted it off, and tweaked a little – and here it is! 
I like pot roasts, and stews, and bean pots, and pulled pork, and all kinds of foods that let you throw something in a pot, simmer (preferably unattended) for a while. Then, if you want,  they give you food for several meals!
I mean – you can see the advantages to them, right? Relatively little work (and it isn't right before dinner, when you may be in a rush.) Even better, they work best with the cheaper cuts of meat, or with beans. Best of all, they're delicious, often traditional recipes, and, for many of us, classic comfort food.
I started cooking for myself in a college dorm, in a year with a record breaking cold winter. I had to keep most of my food in a common refrigerator (and there were pilferage issues…) cook on a shared electric stove (which I mostly hated – but which was good for a steady low heat) and learn to cook with a busy academic schedule.
While the other girls on my floor were boiling hot dogs, I learned that I could simmer a chuck roast while I read a few chapters for HIST 397. I could even leave it simmering in the common room, on very low heat, while I ran out to get a book from the library. (This was when slow cookers were very new – none of us had them. I wouldn't leave something simmering on a stove top without knowing people would be around, just in case.) And coming in from below zero weather and smelling my own delicious dinner was amazing…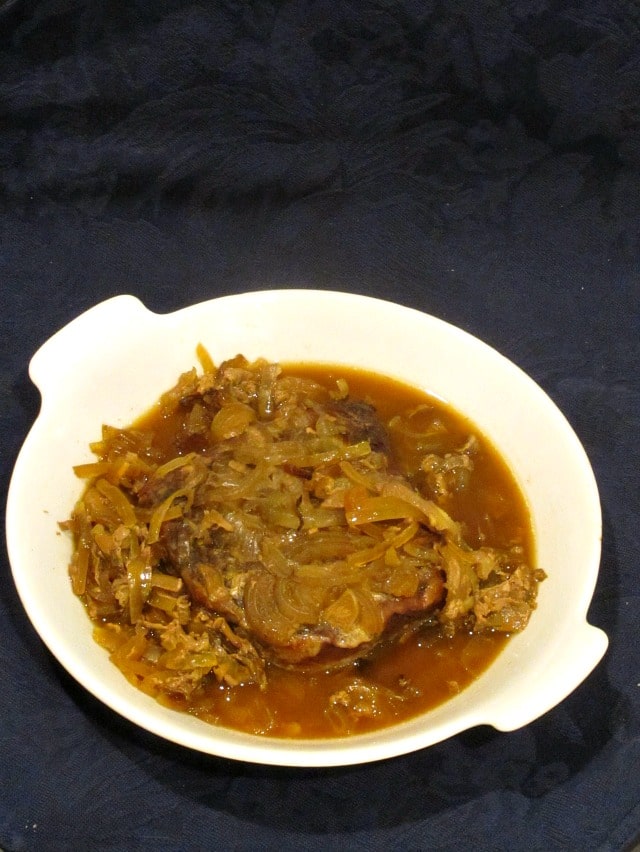 Then I would cut the meat into serving sized chunks, and freeze them individually. Our freezer was usually almost empty – and no one  with late night munchies pilfered frozen pot roast or stew…
I learned a few things. I learned that no, cooking stew on a higher heat for a shorter time was not an efficient way to make different recipes… it was an efficient way to make lumps of tasteless rubber. On the other hand, chicken breast is best cooked fairly quickly, or it dries out – though dark meat braises well. And I learned that the convenience of cooking once for four meals was well worth eating the same thing several times – which I had to, to some degree, anyway, as they weren't selling small packages of meat, yet. (Now, of course, I have more freezer space – the meal I cook today I can eat next month.)
These days slow cookers have made this so much easier for us all. They can be left unattended, they reliably stay on a low heat, you can prepare something in the morning (or even the night before) set the cooker up in the morning, and come home to find most of your dinner all ready.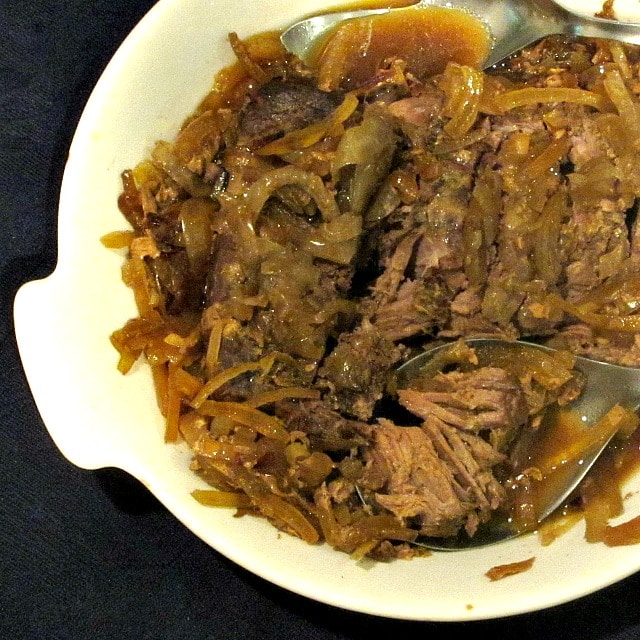 I learned this recipe from Rich's mother, Barbara, back when we all lived in New York. I have changed a few things – she used brisket, I use chuck or round roast, as they are less expensive, and sometimes more readily available. She cooked hers in the oven – again, so she could set it up and ignore it while doing other things all afternoon, before slow cookers. I just use the slow cooker. And she sometimes added variations – I'll mention them later…
Directions for Easy Pot Roast in a Slow Cooker
This time, I had bought a whole eye of round, and cut it into more manageable pieces, and frozen some. Right now, I'm deliberately making single meals in a slow cooker, instead of my old habit of cooking larger amounts of meat at a time – so I used a piece of beef that was just over a pound, for the four of us. You can increase it if you want – the directions are the same, though then you probably will need the full eight hours. And it reheats beautifully!
I took a large onion, and sliced it. I dropped a little of the onion in the bottom of the slow cooker, and put the meat in on top. I sprinkled the rest of the onion over it, and a generous pinch of salt over that. I put the cooker on, went away, came back in about seven hours (It was set for eight, but seven was enough) and sliced it and served. 
I served it with microwaved white potatoes and broccoli – very easy and good. Rich tells me they used to eat it with kasha – may try that the next time. 
Really. That's all. An incredibly easy pot roast. The onions melt and combine with the juices from the meat to make a wonderfully rich sauce. The meat is tender, and really just pulls apart…
If I had a much larger piece of meat – at least two pounds, maybe three or more –  I would cook it about  eight hours on low. (Slow cookers do vary a bit in heat produced – get to know yours…) I prefer the slow cookers that let you set a timer to switch to a Keep Warm setting – the 10 hours I was out of the house when I worked in an office and had a long commute were just too much. Food would be OK, but overcooked. 8 hours, and time kept Warm, it's fine.
Now, it means I can set something up first thing in the morning, before the aide and therapists and others arrive, and not worry about precise times. 
If you want, you can add just a splash of red wine (or wine vinegar) at the beginning, but you really don't need it. You can add garlic with your onion. You can add whatever seasoning you please…  But really – just try the basic recipe first. You'll be amazed how good it is! When Rich and his brother were little, they tell me, the boys called this (and variations of it) Yummy Meat – and that is still the family name.
Don and Barbara recognized it at once, and she took a larger serving than usual! Clearly I need to make more pot roasts…  
Special Diets
Pot roast is both tender – easy to chew – and moist – easy to swallow. This version isn't spicy, but does have a pretty intense beefy onion flavor. For many of us, this is Comfort Food, which can have its own attraction even for poor appetites. As written, it is gluten free.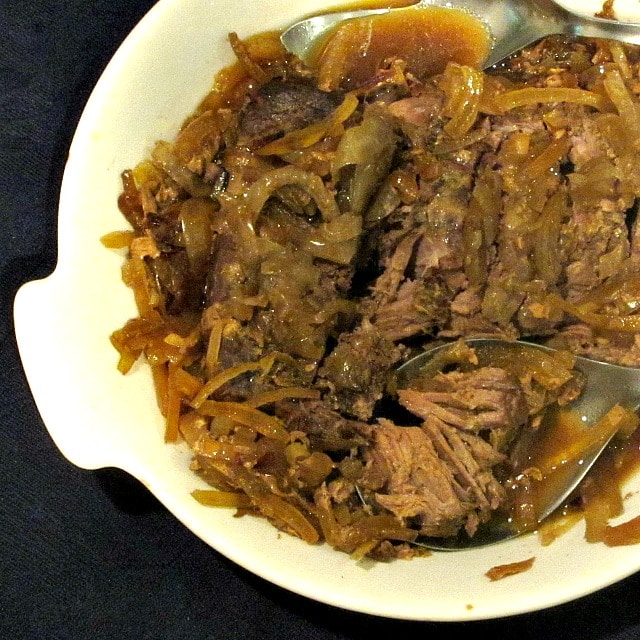 Easy Pot Roast in Slow Cooker
Make an incredibly easy pot roast in a slow cooker! The meat and onions cook down to create their own gravy - you don't have to do a thing.
Ingredients
1

medium onion

1

lb

Chuck or Round roast - or size that you want and that fits in your slow cooker

Pinch

salt
Instructions
Peel and slice the onion.

Place a small amount of the onion in the bottom of the slow cooker, and put the meat in on top of it. Pile the rest of the onion slices on top of the meat. Sprinkle with salt.

Cover and cook - 7-8 hours on Low, or 5 on High.
Notes
This is the easiest pot roast I have ever made - and it is delicious. The onion melts into a sauce, blended with the juices from the beef.
---
---