Cheese Strata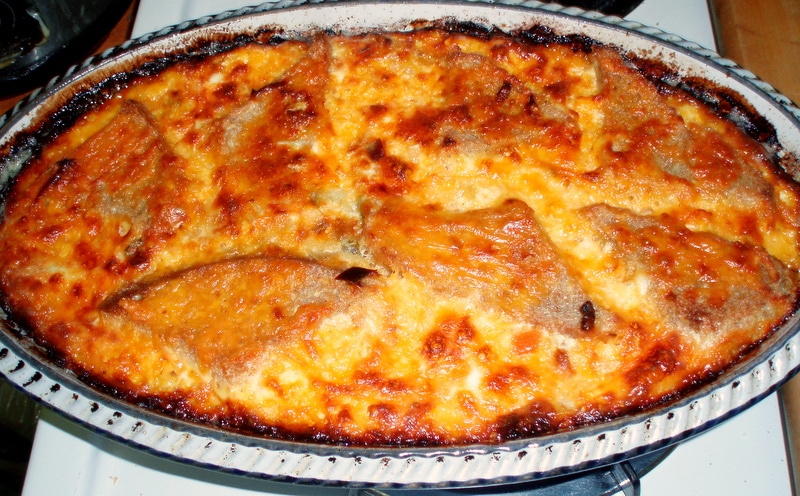 Cheese strata is another classic I've made for years. I found it when I was first becoming interested in vegetarian cooking – but still felt the need to have meals with a lot of egg and cheese so I'd be sure to have any protein…  (Which was actually a good impulse, since I, like everyone I knew at the time, alternated that with making a whole meal of ratatouille…  It was a while before I learned much about grain and beans as a protein source.)
My original version – in the looseleaf notebook I used for recipes in college – used less bread and more cheese, and didn't have much seasoning. It was also intended as a side dish for four – I use it as a main dish for two, here. I think, though, that it works well as one dish sharing a table with another with a lot of vegetables and a little meat, or a bean dish. That way it can serve four, or even six, depending on the rest of the meal.
This is also a wonderful Start Ahead dish. It does need to sit at least an hour before baking – and there is no reason not to set it up in the morning, put it in the fridge while you're out all day, and then bake it when you get home.
Start with a good whole wheat bread. I cut it in triangles (because the smaller pieces are easier to arrange) and cover the bottom of a well buttered six cup baking dish. You can either use a long flat one like this, or a deeper one, and that may affect the amount of bread you need… I'll explain in a bit. The bread doesn't have to completely cover the bottom of the pan, but it should make a base.
Now, I added a step here to my original recipe. I want a little more punch, so I mince and saute an onion, and sometimes a bit of hot pepper. I mince both finely, because I want to be able to spread it out over the cheese. This is so strongly a dairy dish that I, atypically for me, chose to saute the onion in butter, rather  than oil – that's optional. And I let it cool.
Grate 8 ounces of cheese. I usually use cheddar – my default cheese – but Monterey jack or swiss would work beautifully, too. Any semi-hard flavorful cheese, really, will do well. Or a mix, if that's what you have and like.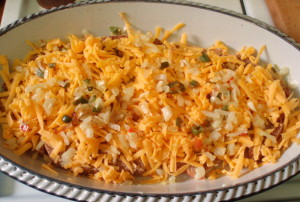 Arrange the bread in a layer in the baking pan. Distribute about half the grated cheese over it. If you choose to add the onion, spread it over the cheese. (I sometimes keep a little for the next layer – you'll see in the pictures that I did this time – but by and large it works best to put most of it here.)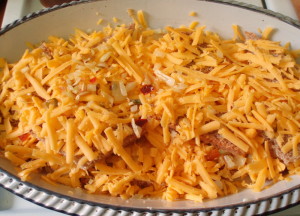 Then, another layer of bread. Now, my original recipe called for four slices, which had worked when I had made it in a smaller, deeper casserole. In this longer, shallow pan, though, I used more than half of the bread for the first layer. The second layer of bread doesn't have to be as complete as the first, but I do want a real layer… so I added a fifth slice of bread. Use your own judgement, looking at your own baking pan. Then spread the rest of the cheese over it, trying to cover the bread as much as possible. Dot it with any onion left.
Then, beat the eggs, and add milk to make a custard base. Pour the milk and egg mixture over the bread and cheese mixture carefully, trying not to disturb the cheese (some will float away.)
Cover the pan, and put in the refrigerator. I used foil, as this baking dish doesn't have a lid. Let it stand at least an hour – the bread needs to absorb much of the milk mixture. I let it stand for 2 hours – all day (while you are at work or running errands) would be fine.
Preheat the oven to 350º. Place the baking dish – still covered (which is the reason I used foil…) in the oven, and bake for an hour. Half an hour into baking, remove the lid to let it brown.
After an hour, remove from the oven, and let sit 15 minutes before eating. This helps the custard and cheese become firmer and easier to serve – and also lets it cool enough to avoid burned tongues.
If your pan is shallow – as mine is – it might be wise to put a cookie sheet under it, in case the cheese bubbles over and drips a little. That is, it would have been wise if I'd done that… it's only a small drip, though…
Cheese Strata
Ingredients
I small onion

minced

1

hot pepper

minced (opt.)

butter

4-5

slices

whole wheat bread

8

oz.

cheddar cheese

grated

2

c

milk

3

eggs
Instructions
Saute onion and pepper (if using) in butter. Set aside to cool.

Butter 6 cup baking pan. Cut bread diagonally in quarters. Make a layer of bread in the pan (it does not have to cover the pan exactly.)

Spread half the cheese over the bread. Sprinkle the cooked onion over that.

Use remaining bread to make a second layer. Spread the rest of the cheese over it.

Beat the eggs. Beat in the milk, until well blended. Pour mixture over the bread and cheese.

Cover and refrigerate at least 1 hour, longer if convenient.

Bake at 350 with the cover on, for half an hour, remove the cover, and bake another half hour - one hour altogether.

Remove from oven and let set for 15 minutes before cutting.
Notes
Remember to allow time to rest at least an hour before baking, and 15 minutes after.
---
---