Baked Ziti with Greens
I used to live in a neighborhood with the generic Local Neighborhood American Italian Spaghetti Place. Good Food Cheap, a friendly atmosphere and staff, a bar where people talked much more than they drank (and if I was alone I could go in there for pleasant company with my dinner, even if I didn't drink at all.) All the American Italian classics – spaghetti and meatballs,  pasta with "Alfredo sauce", chicken Marsala ("Now, it comes with spaghetti on the side. Do you want the Marsala sauce or the regular spaghetti sauce on it?")   I ate there often – it was the neighborhood hangout.
I also had the experience of going to a similar restaurant with a business associate from Milan. The vendor who brought us there was apologetic – it was simply the only option other than fast food and diners near the dockyards we'd visited that morning – and he was politely bemused. The food had no relationship to anything he'd ever seen, let alone eaten,  back in Italy… but the food did, in fact, taste good, as long as one had no expectations.
Now, it is not that there is nothing Italian about this food. It is food Italian immigrants to the US in the late 19th and early 20th centuries could make with the materials they had available here – and it is heavily influenced by the food of desperately poor peasants from specific areas of Italy. (As with most immigration – if you were well off, you usually stayed at home.) Then it was further influenced by the dining habits of non-Italian Americans, who found that the Spaghetti Houses were, in fact, a great place to get good but inexpensive food. (Unfortunately most vegetables – other than tomato sauce and salad –  were lost in that phase, though they'd been a major part of the original immigrant diet. I still buy vegetables from a farm run by the family of a man who started a garden in the Bronx, frustrated that he couldn't find broccoli rabe in New York…)
My favorite dish, at most of these restaurants, was always baked ziti. Especially if they made a good, interesting tomato sauce – the herbed sauce and the cheesy goodness melt into something delicious, and a good pasta, combined with the browned cheese at the edges, gives a nice chewy texture.  And everyone makes it – it's a perfect dish for restaurant cooking, because the final step combines and heats several pre-cooked ingredients.
That makes it a good dish for some uses at home, too. The other day, Rich was out in the afternoon and early evening, and it wasn't certain when he would get home. I had all the ingredients for this, and I knew I could make everything in advance, start heating the oven when I started to expect him, then pop the dish in the oven and serve in 15 minutes or so. (Or, if he didn't get home in reasonable time, go ahead and cook it anyway, eat mine, and reheat his… It does reheat decently.)
I made a simple tomato sauce. You can certainly use a pint of any tomato sauce you like – your own favorite recipe, a jar, whatever – but it's always good to have a simple pasta sauce up your sleeve. I heated a pan, added a little olive oil, and then a small chopped onion, and stirred. Then I added a chunk of  my frozen chopped hot  peppers – I'd say to add 1-2 peppers, depending on their heat and your preferences – and you can, of course, omit them all together. You can also, in classic Italian Restaurant style, use hot red pepper flakes, aka "pizza pepper."   I let it cook until soft and the onion was just starting to go golden, then used a garlic press to press in 2 cloves of garlic. (You can also mince the garlic, if you don't have a press. Do add the garlic much later than the onion – it cooks more quickly, and overcooked garlic gets bitter.)
Then I added 2 cup of crushed tomatoes. Puree works, too, passata if you are British, or you can used the diced tomatoes I often use, though then (of course) your sauce will be chunky, not smooth. Once it was stirred in, I added a teaspoon each of dried basil and oregano, and then let the whole thing simmer. At this point, everything is really cooked – the simmer is to meld the flavors, so do give it at least 10 minutes – more won't hurt.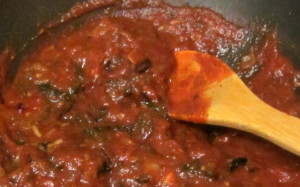 I wanted all my vegetables in the same dish, and I find that greens of many kinds work well in these recipes. I had the green muffins I make of leftover vegetables, so chopped and used two of them. (And one was beet greens… I thought the color would just vanish in the red of the tomatoes, but, in fact, it gives them an oddly crimson cast. Don't adjust your color – the tomato sauce really is a bit bluish… sorry about that…) I just stirred in the chopped frozen greens and let them thaw.  If you don't have such handy, or any leftover greens – most people usually do not, after all – chopped frozen spinach is probably your best bet. You could also just stir in chopped fresh baby spinach – but anything else really needs at least a little cooking. (Broccoli rabe would be marvelous!) And you can just leave them out, and eat your vegetables on the side – but I did like this.
Now – pasta. Basically, go ahead and cook half a pound of your own preferred shaped pasta… while I digress into the Gluten Free Pasta discussion. See, for many years, I preferred whole grain for everything else, baked my 100% whole wheat bread, ate my brown rice, but still ate white pasta because I couldn't find a good alternative. 9-10  years ago I committed to entirely whole grain foods – but pasta was still an issue. Others I knew eating the same way encouraged me to try brown rice pasta but I never could get the texture right. It seemed to go from crunchy in the middle straight to overcooked (to my taste) though others seemed to like it. But, while whole wheat pasta was a bit more chewy than I really liked, I was happier with too chewy than with too mushy… (We finally decided that, as New Yorkers, our concept of al dente was firmer than that of people in other parts of the country… though I don't know if that is really the reason or not.)   So I've been eating whole wheat pasta, quite happily in most uses. And now that I'm not… I've been sticking to polenta. That worked.
I did find, though, that there were a few uses in which whole wheat pasta didn't seem right. Macaroni and cheese, for instance. Tortellini. They weren't al dente as much as… tough… And baked ziti is in that class. I want it a little softer, though there should still be some bite. So rice pasta it was.  (This is actually penne, not ziti, because that's what the store carried… close enough for home cooking)
And – side note – watch this space… I may have found a method of cooking rice pasta that gives a result I actually like – but I need to try it a few more times to be sure.
Anyhow – cook and drain half a pound of your preferred shaped pasta, with your preferred cooking method. And at this point, you can put everything on hold for an hour or two, until you know when everyone will actually get home…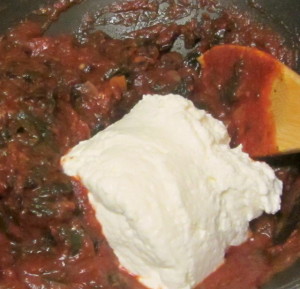 When you are ready – preheat the oven to 350°. Stir 1 cup (or up to half a cup more, if you like) of ricotta into your sauce. It is actually better for the sauce to not be really hot, at this point… you don't want the cheese to melt yet.  Just adding the frozen greens accomplished that for me – letting it sit a while does it too. Warm is fine, so if you're not pausing along the way, don't worry… and it's not really a big deal, it's just easier to mix well if the cheese doesn't melt. Then mix the pasta into the sauce. (Notice that I'm just using the pan I used to make the sauce to mix everything…)
Put the sauce and pasta mixture into a 2 quart baking pan. Then slice 4 ounces (or again, you can easily use 6) of mozzarella and put them over the mixture in the pan. (Grating works a little better, because you can spread the cheese a little more evenly, but I don't usually bother…) Regular grocery store mozzarella is best for this – don't waste lovely fresh mozzarella (let alone mozzarella di bufala) on this… serve that fresh and cold as an antipasto and appreciate it! The texture is different.
Then bake at 350° for 15-30 minutes. Sorry about the variation – can't be helped… Because you are basically heating already cooked foods, the time will depend on the original heat of those foods. So, if you cook your pasta, and make your sauce, and don't add frozen vegetables, and mix all up and put it in the oven right away – 15 minutes will be fine. If you let the pasta sit a while (or rinse it with cold water – which can help prevent rice pasta, especially, from sticking) and use a container of sauce out of the fridge, and mix in frozen vegetables… you're going to need at least that half hour. I was somewhere in between, gave it the 15 minutes I'm used to (when I have not let it all sit half an hour) and it really could have used another 5-10 minutes… but dinner had been delayed and we were hungry. Five minutes later, the cheese would have melted more and started to brown – that's a good place to look… And the inside would have been hotter. This was OK – five minutes more would have been better… When you take it out of the oven, let it stand for 3-5 minutes, which lets the cheese set. (So taking pictures didn't delay the meal – this time…)
And another note – I said that baked ziti generally reheats well. I initially served most, but not all, of this, and then microwaved what was left – and found that the rice pasta did not, in fact, reheat well at all. What was a good texture eaten right away turned to mush after it first sat and then was microwaved… though what was on our plates had not changed in texture. I have since read someone saying that rice pasta does not microwave well – again, more testing indicated…  So, if you do use rice pasta, you probably want to eat it all in one go.
We ate this as an entire meal for 2 people. One reason for the suggested variations in the amount of cheese is that it also works well as a side dish for 3-4 (or even 5-6) in a meal with bread and other protein and vegetable sources. So you might want to make it cheesier and serve it with a nice Italian bread and a salad for three… or as is with bread, salad, and a bit of chicken for 4-5, and so on. Vary to suit your own needs…
Baked Ziti with Greens
A great make now, bake later dish, baked Ziti (gluten free, if desired) can be assembled and baked when everyone gets home. Make as either a main dish or a side.
Ingredients
Olive oil for the pan

1

small onion

chopped

1-2

hot peppers to taste

2

cloves

garlic

pressed or minced

2

c

crushed tomatoes

1

t

dried basil

1

t

dried oregano

1

c

cooked chopped greens - spinach

rabe, chard, etc. (opt.)

1

c

ricotta

1/2

pound

shaped pasta

ziti, penne, cooked

4

oz

mozzarella

sliced thin
Instructions
First, make the pasta sauce.

Heat a saute pan, heat the oil, and saute onion and peppers. When they are soft, add the garlic.

Add the crushed tomato. Add the herbs, and stir them in. Simmer the sauce at least 10 minutes, to meld the flavor - longer if it won't rest before use.

Stir in chopped cooked greens.

Cook the pasta. Drain.

At this point, you can hold everything for an hour or so. If it will wait longer, refrigerate it.

Preheat the oven to 350.

Stir the ricotta into the sauce. Stir in the cooked pasta. Place the mixture in a 2 quart baking dish. Arrange the mozzarella over it, to nearly cover.

Bake at 350 for 15 - 25 minutes, until cheese is melted and golden, and it is heated through. (Time will vary by the original temperature of the ingredients.)

Let stand 3-5 minutes before serving.
---
---