August Chicken Corn Chowder
It is August, and we have beautiful, glorious, fresh corn on the cob.
The first and best thing to do with it is cook and eat it right away, as soon as possible. The new Supersweets do give us a little more time – it's not really that they are sweeter to begin with but that their sugar takes longer to turn into starch, so we can have good corn if we can't eat it right out of the field – but still, the sooner the better.
But sometimes, especially if you don't control what day you get it, you can't eat it that evening. And sometimes it is just good to have something different…  A couple of times this summer I have found myself making this corn chowder later in the week, to enjoy corn at its best.
I use the corn cobs to make the stock for the soup. It adds flavor, and is one way to make sure you get all the corn from the cob…  Boiling them in milk, though, is tricky. So this is one recipe in which, even with all the beautiful fresh vegetables, I do use powdered dry milk. We don't really drink much milk – we eat yogurt and buttermilk, and put half and half in our coffee, and use all of these for cooking. I keep dry milk on hand, though, so I can always throw together a dairy sauce on impulse, and I use it for some baking. If you prefer, you can certainly use fresh milk – just keep the heat low, stir frequently, and watch it carefully to avoid scorching.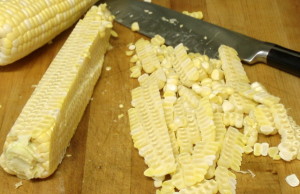 I cut the corn kernels off the cob with a sharp knife. I did not, then, scrape the cob to get the last bits, as I usually would. The corn kernels went back into the refrigerator, to keep them as fresh as possible, while I put the cobs in a soup pot with 6 cups of water. I brought that to a boil, and left it on a high simmer. (If you use milk instead you need a very low simmer, here.) I simmered the stock for about half an hour, while preparing everything else that would go into the soup.
I cut 4 red potatoes in cubes, and set them aside. I also chopped 1/4 of a red pepper, and set it aside separately. (It can go with the corn.)
I seeded and chopped one jalapeno pepper, and chopped a small onion. Then I added 1 boneless skinless chicken thigh, cut into bite sized pieces, and sauteed it until lightly brown (but didn't fully cook it.) Removed them from the pan.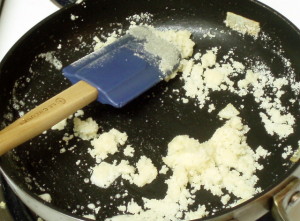 I wanted to thicken the soup slightly. Usually, I would just use a couple of my roux cubes, but I'm starting to experiment…  I want to see how using different flours to make sauces affects the final product. We think of the flour in a sauce as just a tasteless bland thickening agent – and, in fact, some people dislike using whole wheat because it does add flavor (though that's one reason I've come to prefer it.) But I'm starting to wonder what it would be like to use, say, buckwheat for the sauce to go over buckwheat crepes… or rye for gravy on pork chops served with sauerkraut…  or corn, in a corn dish. And, though I don't write about it much here, I bake (when I do have the energy)  so I have various flours on hand.
The cornmeal I use in my corn muffins is stone ground, so much finer than many others, and really is a flour. I happen to have white cornmeal at the moment (I vary…) which was a pity – the yellow would have looked nice… I melted 2 tablespoons of butter, added 2 tablespoons of corn meal (this is just to thicken it a little – one could add much more.) I used the silicone spatula to make the roux, and then added a little of the stock from the soup pot (still cooking away) to start the sauce. It worked quite well – though you do see a slight glossiness, it did behave more like flour than like cornstarch, which I had been wondering about. I then set that aside. (And sat down for a few minutes…)
When the corn cobs had simmered for half an hour, I took them out of the pot, and scraped out any corn left in them, returning the scrapings to the pot.  Much of the germ had already floated away, and the stock had a cloudy look. I added the cut up potatoes to the pot at this stage, and started them simmering.
I put a cup of half and half in a blender, with enough milk powder for a quart of milk. (Which may be one packet, if that's how yours comes.) I added half a cup of the reserved corn kernels to that, too, and blended, adding a little of the stock from the pot to thin it.
Now I started adding all the parts set aside… My goal, here, was to cook the corn and red pepper as little as possible, while making sure everything else came together… First, the chicken/onion mixture. I returned that to a simmer, and let it cook for about five minutes. Then I added the milk mixture, and then the corn roux. (And if you prefer, you can certainly make that from whatever flour you want, or, most easily, just drop in 2 roux cubes at this point.) I brought all of that to a low boil, and let it start to thicken slightly, and then, last of all, added the corn and the red pepper. I returned it just barely to a boil, let it all simmer a minute, and then served.
Putting prepared food aside after each step feels a little fussier than if I just popped it all right into the soup pot – but it's not really much more work. And it does make this a good advance prep dish… Do the preparations in the morning, take the kids to the beach or lake, come home and throw everything together while they're still washing off the sand…  (I'm used to lake and seawater that is cold – soup after swimming makes perfect sense to me!) If you want to make it at other times of year, without the fresh corn, just substitute chicken broth for the corn cob stock, and use frozen or a good canned corn. (Look for corn without added sugar. If they feel they need to add sugar, the corn wasn't at its best.) The red pepper is optional, but it adds a nice bit of color and crunch, as well as flavor.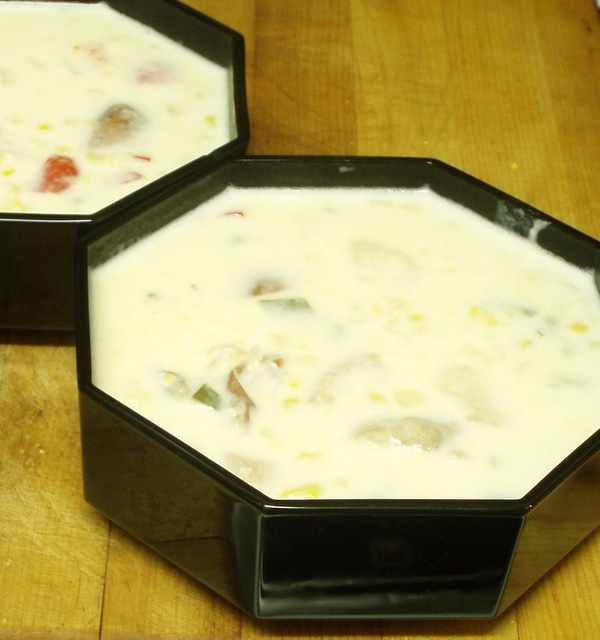 August Chicken Corn Chowder
A creamy, summery fresh corn chowder with chicken.
Ingredients
2-3

ears of fresh corn

4

red potatoes

cut in bite sized pieces

olive oil for pan

1

jalapeno pepper

seeded and chopped

1

small onion

chopped

1

chicken thigh

boned and chopped in bite sized pieces (about 4 oz)

1

cup

half and half

dry milk powder for 1 quart of milk

2

T

butter

2

T

stoneground cornmeal

or other flour or substitute 2 roux cubes for the flour and butter

1/2

sweet red bell pepper

chopped
Instructions
Cut the corn off the cobs, reserve the corn. Simmer the cobs in 6 cups of water for 20-30 minutes. Scrape the cobs, adding all scrapings to the stock.

Add potatoes, and simmer.

Saute jalapeno, onion until they soften. Add chicken, brown lightly. Add to the soup pot.

Blend the half and half, dry milk powder, and half a cup of the reserved corn kernels, adding stock to thin, as needed.

Make a roux of the butter and cornmeal or flour. Temper it with stock.

Add the milk mixture to the pot, stirring. Add the roux (or roux cubes.) Bring to a boil, let thicken slightly.

Add the rest of the reserved corn, and the red pepper. Return to a boil, simmer 1-2 minutes, and serve.
---
---