WIAW 152 – All About Quick Meals
So, at the beginning of the year, I reviewed the posts from 2016. I noticed that most of the most popular ones (including, as I did not mention, the ones from previous years that keep being read and shared) are about easy, quick recipes. Simple meals, So I made a conscious decision to concentrate more on them (since that was, after all, the original focus of Inhabited Kitchen!) I want recipes that will make it easier for people to cook from scratch, no matter their constraints – time, energy, dietary restrictions…
And it is just as well that I had made that decision. Between a bad series of weather induced migraines, and family business that has made me run around the city (on those days I can walk at all…) I have been forced myself to concentrate on fast, easy meals for us to eat!
So having cooked meat on hand is invaluable…  And a note, here. If you are in the same position, and can get boneless pork butt, boneless chicken thighs, etc., by all means do. My local stores only carry bone in shoulder, and don't even always have just bone in thighs (let alone boneless…) but quarter chickens with back. Fortunately when I'm unwell, I can just sling them all in the slow cooker – and Rich will then do the finicky work of separating cooked meat from bone and fat…  And then, of course, one advantage to that is that we then make stock from the bones, which is worth remembering if you do have the energy to deal with them.
So, anyhow… a day of meals…
I started the day with what is now my standard breakfast – cheesy grits and eggs. I start the grits, add the cheese, and then just drop in the eggs and cook them as the grits cook. Ten-fifteen minutes, all together? And I can do it on autopilot…
I do want to get back to muffins and waffles and the like, at least a little more often… but this is just so easy, and it does taste good. It also works well for me as a breakfast – I feel solidly nourished the rest of the day.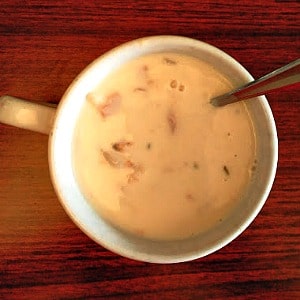 Well – then the front  moved in and knocked me flat, and…
Yes, that's canned clam chowder. I was so delighted to find that Progresso New England clam chowder is indeed gluten free… because that's my fallback comfort food – what I yearn for when I feel crummy. (I mean, I'd love homemade chowder, but then I'd have to cook it, and… this is what I eat when I really cannot. And I stuck with doing this day, because it is only fair to show you that every so often, I do eat canned soup… This is real, here.)
I do doctor it a little – it does not have enough clams to make a meal itself. But I've found canned clams in clam broth, and add one can of that to two cans of soup, and then we have a meal. Well – usually Rich is the one adding them, because usually the whole reason we're eating canned soup in the first place is that even heating that is a little beyond me… He also sometimes adds a can of corn, to make it heartier.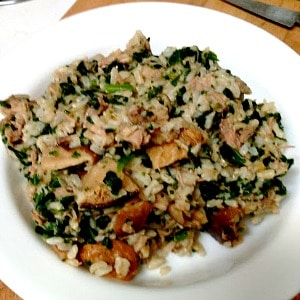 I was doing rather better at dinner time, I'm pleased to say, but still went for Easy. I had some cooked pork in the freezer, and frozen spinach, and a container of rice in the fridge. I heated some shiitake mushrooms in water to make mushroom broth, then added the pork and simmered a few minutes, then stirred in everything else. And it was Dinner.
And you know, there are days when Heat and Eat is what it's all about…
---
---